Whether you live alone, as a couple or as a family, the washers are rooted in our routine. We take their presence so much for granted that we forget how much they make our daily lives easier. But When the time comes to shop for a new washing machine , you quickly realize that the choice is anything but obvious.
Before asking the question of the brand and model, you are probably wondering what type of washer to buy ? Rather top loading or front loading? Rather "traditional" washer or front loading washer ? What type of washing machine is really right for you?
To help you make your choice, we have listed the advantages and disadvantages of the two types of washing machine for you.
Load your laundry from above or from the front?
Top loading washing machines (or vertical loading) make it easy to load and unload laundry. Only items at the bottom of the tub may be more difficult to retrieve depending on how tall you are or the height of the washer.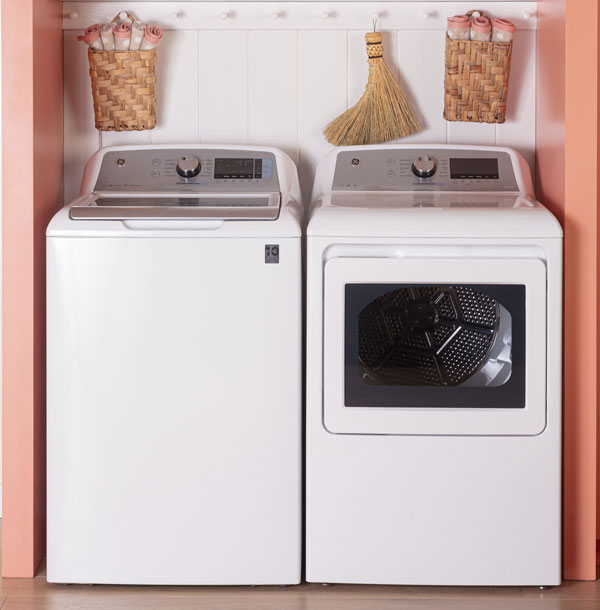 Front loading washing machines (or front loading) will force you to bend over more often, especially if you opt for a compact model. On the other hand, all your laundry will be at hand.
What is the dedicated space in your home for your washer?
The space available and the configuration of your accommodation may already determine your choice.
If you want to place your washer in the kitchen, under a counter , or plan to use it as an extension of your counter, a front-loading washer will be a much better option for you.
Is your home small or are you looking to save space? Frontal washers have the advantage of being stackable using a stacking kit. Depending on the floor where you live and especially your type of staircase, you can also consider buying a stacked laundry room (also called module, laundry center or combined).
You are lucky and have no space constraint? Loading is not an issue for you and you are still wondering what type of washer to choose?
So let's move on to the advantages and disadvantages of front-loading washers and then vertical washers…
The advantages of buying a front-loading washer
The washing mechanics specific to this type of device is one of its main strengths. This is a tumble wash. In concrete terms, this means that your laundry is constantly in motion, balanced by the action of the tub. A front-loading washer therefore does not need an agitator (a kind of "cylinder") in the middle of its tub to stir the water. This means you get a larger load volume and these washers can run on very little water.
A good compromise for the environment
We often hear the term "high efficiency" to designate front-loading washers. Although this term refers more specifically to the type of detergent (HE "High Efficiency" detergent ) that you must use on this type of machine, it is true that a front washer is very energy efficient. It uses little water, little electricity and therefore little detergent if you use a quality detergent.
Do you know the tool Calculate the consumption of appliances offered by Hydro-Quebec? It will help you find out the electrical consumption of appliances based on 3 criteria (type of appliance, Hydro-Québec's rate and the use of household appliances).
A wider choice of washing programs
For most appliance companies, the front-loading washer is a rather "top-of-the-range" labeled product. It usually comes with many cycles and a large choice of options. If you have synthetic, delicate, white, well-stained laundry, etc., you will have a dedicated program to that. Who says greater choice of cycles, also says better energy efficiency with a cycle that best adapts to your load.
The front washer: not an appliance for everyone?
A washing mechanism to tame
Its very small volume of water will be a problem if you use washable diapers, for example.. The mechanics of these washers require you to always match your load to the correct wash cycle. Each cycle has a minimum and maximum operating weight. For a small load, for example, select quick or delicate wash. For a large load, "bulky items" or "heavy duty" will be more appropriate. Remember to balance the weight of the laundry inside the tub, especially for heavy items; an unbalanced load (ex: several t-shirts with ONE large bath towel) will cause vibrations, and therefore a noisy washer.
Also remember to check the type of flooring you have. A "soft" or "crooked" floor will not be optimal for a washer that tends to spin very quickly, especially during the spin cycle. You probably don't want your whole neighborhood to know when you're washing your dirty panties!
The thorny question of the budget
When the time comes to shop for a new "electro", one of the first questions to ask is that of the budget. Even though the price gap has narrowed over the years, a front-loading washer is still more expensive than a traditional washer. The same goes for repairs… A front loading machine includes electronic parts that tend to be more expensive than their top loading counterparts. Paying more for a frontal, on the other hand, allows you to save money during use (water, detergent, electricity, better spin-drying, therefore shorter drying time, etc.).
Whether or not you've ever used a front-loading washer, you've probably heard of odor issues? Because you have to leave their door ajar? Well it's not not related to the washer but more to the detergent that you use. The use or not of a quality HE (High Efficiency) detergent is decisive in the appearance or not of bad odors.
Top loading washing machine: its advantages
The most popular and easy to use
The first obvious advantage of these washers is that they are known to everyone. Who hasn't had to use this type of washer at least once in their life? They are known and therefore have a reassuring side.
The accessibility of top-loading washing machines is reflected in their ease of use. A button to choose the water level, another for the water temperature, the biggest one for the cycles, and you're done!
Are you the type of person who does one type of washing and doesn't like the hassle? Then this type of washer is for you.
Finally, if you are in a hurry by nature, know that the wash cycles of top-loading models are the fastest you can find.
"Accessibility" seems to be the qualifier that sticks best to this type of device because it is also valid when talking about their price. washers the cheapest in the store are all top-loading. The The cheapest washers to repair are usually also the top-opening ones.
Traditional washers... and outdated?
Too much water consumption these days
Top-loading washers have been around the longest…and evolved the least?
Although real progress has been made with the new high-efficiency hybrid models, the amount of water used is very high on the older models, which are also the most widespread. Almost 100 liters of water per wash depending on the program selected for these! At a time when we pay attention to our consumption to avoid waste, these washers seem stuck in the past.
Paradoxically, the evolution of these washers brings them closer and closer to front-end models … More electronics, automatic water level control, even if the energy efficiency remains lower than their rivals.
A laundry put to the test because of the agitator?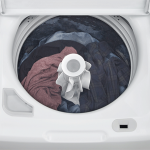 The agitator , the central part found in the tank, also centralizes many debates.
Does it really damage laundry? Yes and no.
The answer to this question is not so simple and depends on several things: shape of the agitator, way of placing the laundry in the tub, type and quantity of laundry placed in the washer, etc.
Does a real winner come out of this opposition?
Not really.
Budget, practicality, available space, cycles and options used are all elements that will tip the scales one way rather than the other.
Finally, the most important thing is still to listen to your needs and choose your future washer properly.