Household appliances can sometimes be bulky and impractical to fit in, especially for homes with small rooms. That's why we direct you to compact and portable appliances. Discover their advantages as well as one of our best sellers of the moment.
Why opt for a compact or portable appliance?
space-saving devices
Compact appliances are known to be much less bulky than conventional appliances. They are specially designed to fit into small spaces and are suitable for homes that do not have large rooms.
Lighter and easier to move
In addition to being compact, compact and portable appliances have the advantage of being lighter. Because of this, they are easier to move around, especially when you need to clean the kitchen thoroughly. For example, a compact refrigerator is lighter than a traditional large refrigerator. So only one person can move it.
· Combined features
Compact appliances are also versatile and particularly practical. In addition to occupying little space, they can combine the functionality of two appliances into one. For example, at Electrolibre, you will find the compact washer/dryer combo that doubles as a washing machine and dryer.
· Optimized energy consumption
Finally, who says smaller machine generally says less consumption. Indeed, the motor of compact household appliances is less bulky compared to that of traditional appliances, hence the energy saving.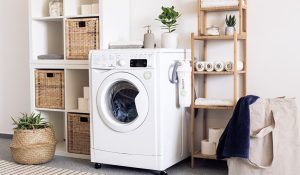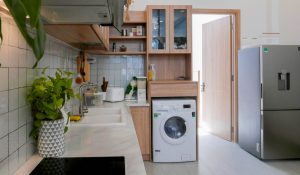 Electrolibre, your supplier of compact appliances
The Electrolibre store is your supplier of new or used household appliances. You can find different models of compact appliances. You will discover in our catalog a whole range of portable models from the best global brands.
The GE 24-inch washer/dryer combo: a must-have
Among the compact appliance models at Electrolibre, this washer/dryer is one of the best sellers of the moment. Offered by the GE brand, this appliance offers a fairly decent capacity (2.8 cubic feet), 14 wash cycles for 5 drying cycles.
Although its motor is not huge, it offers a spin speed of 1,400 rpm. Its double function of washing and drying makes it very practical. Indeed, it is not necessary to remove the linen after washing, since the device is transformed directly into a dryer by condensation without ventilation.
Finally, this GE 24-inch washer/dryer combo can fit easily into small spaces in your home. Being a compact device, it is space-saving and very suitable for narrow rooms.
Don't miss the bargains at Electrolibre
At Electrolibre, you have the opportunity to discover promotional offers throughout the year. Indeed, the store's official website has its "Best Price" section, offering household appliances at unbeatable prices.
You are entitled to a wide choice of appliances, ranging from washing machines to kitchen furnaces. Do not hesitate to visit our offers in our "Best price" section and buy your cheap quality household appliances from us.